Sandvik RC Hammer RE120

RCDHH - RE120 REVERSE CIRCULATION DOWN-HOLE HAMMER isfor deep, dry exploration holes or grade control applications where high efficiency and power are required. A high back pressure model is also available for areas with large volumes of water present.



Roschen reverse circulation hammers with integrated bits which have been designed to provide a cost effective, heavy-duty sampling system for a continuous, high quality geological sample.
By maximizing the energy output and minimizing air consumption, Roschen can assist in providing you with excellent production rates resulting in significant performance advantages with over 200 m per shift possible in hard rock conditions

• 20% greater power
• Up to 15% higher efficiency

Contact your Roschen representative today.

Roschen recommends using only Sandvik quality manufactured parts.
Roschen does not guarantee the consistency or quality of other manufacturers.


SPECIFICATIONS

Ø mm

Ø in

Hammer

117.5

2004/5/8

Bit

127 to 140

5 to 5 1/2
HAMMER ASSEMBLIES

Item

Part No

Description

1~13

32-120-000

Hammer Assy -standard

1~13

32-120-HBP

Hammer Assy -high back pressure

Ideal for deep, dry exploration holes or grade control applications where high efficiency and power are required. A high back pressure model is also available for areas with large volumes of water present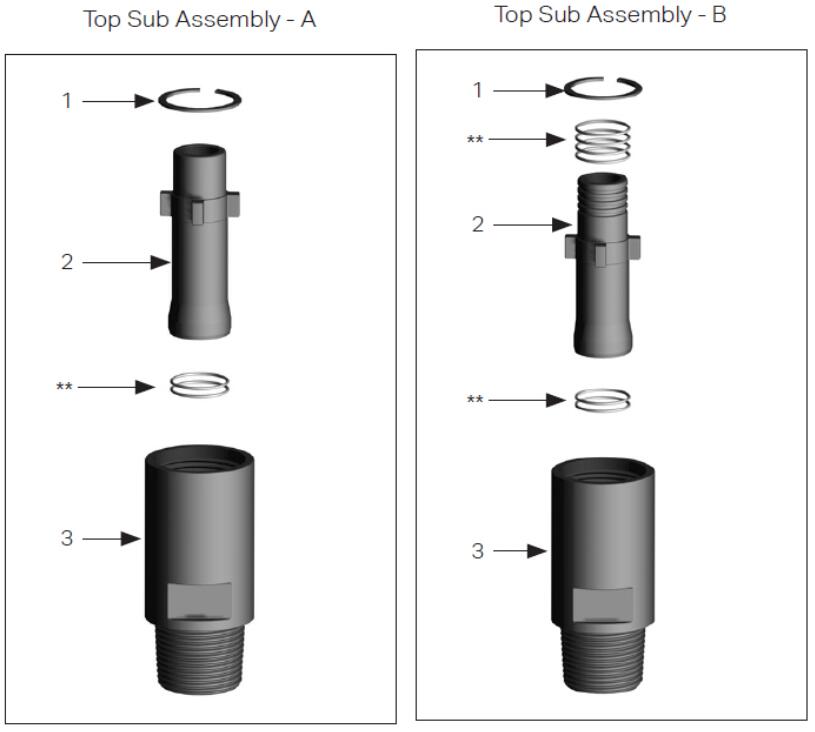 Roschen Sandvik RC Hammer RE120 Hammer parts


| | | |
| --- | --- | --- |
| Ref | Product Name | Part Number |
| 1 | Sample tube RE120 | 37-120-000 |
| 2 | Circlip RE120 | 41-D1300-0850 |
| 3 | Airscreen RE120 | 21-120-000 |
| 4 | Distributor RE120 | 29-120-000 |
| 5 | Plunger RE120 | 25-120-000 |
| 6 | Spring RE120 | 22-120-000 |
| 7 | Inner cylinder RE120 | 31-120-000 |
| 8 | Piston (Standard) RE120 | 36-120-000 |
| 8A | Piston (High back pressure) RE120 | 36-120-HBP |
| 9 | Piston case RE120 | 35-120-000 |
| 10 | Piston retaining ring RE120 | 23-120-000 |
| 11 | Drive sub bush RE120 | 26-120-000 |
| 12 | Bit retaining ring RE120 | 27-120-000 |
| 13 | Drive sub RE120 | 16-120-000 |
| | |
| --- | --- |
| Product Name | Part Number |
| RC Bit 127mm 5in for Hammer RE120 | 62-120-500HF |
| Shroud 125mm 4-15/16in for Bit 127mm 5in | 40-120-415 |
| RC Bit 130mm 5 1/8in for Hammer RE120 | 62-120-502HF |
| Shroud 128mm 5-1/16in for Bit 130mm 5 1/8in | 40-120-501 |
| RC Bit 133mm 5 1/4in for Hammer RE120 | 62-120-504DC |
| RC Bit 133mm 5 1/4in for Hammer RE120 | 62-120-504HF |
| Shroud 132mm 5-3/16in for Bit 133mm 5 1/4in | 40-120-503 |
| RC Bit 137mm 5 3/8in for Hammer RE120 | 62-120-506DC |
| RC Bit 137mm 5 3/8in for Hammer RE120 | 62-120-506HF |
| Shroud 135mm 5-5/16in for Bit 137mm 5 3/8in | 40-120-505 |
| RC Bit 140mm 5 1/2in for Hammer RE120 | 62-120-508HF |
| Shroud 138mm 5-7/16in for Bit 140mm 5 1/2in | 40-120-507 |
| RC Bit 191mm 7 1/2in for Hammer RE120 | 62-120-708 |
| Shroud 189mm 7-7/16in for Bit 191mm 7 1/2in | 40-120-707 |
| RC Retention Bit 127mm 5in for Hammer RE120 | 62-120R-500HF |
| Shroud 125mm 4-15/16in for Retention Bit 127mm 5in | 40-120R-415 |
| RC Retention Bit 130mm 5 1/8in for Hammer RE120 | 62-120R-502HF |
| Shroud 128mm 5-1/16in for Retention Bit 130mm 5 1/8in | 40-120R-501 |
| RC Retention Bit 133mm 5 1/4in for Hammer RE120 | 62-120R-504HF |
| Shroud 132mm 5-3/16in for Retention Bit 133mm 5 1/4in | 40-120R-503 |
| RC Retention Bit 137mm 5 3/8in for Hammer RE120 | 62-120R-506HF |
| Shroud 135mm 5-5/16in for Retention Bit 137mm 5 3/8in | 40-120R-505 |
| RC Retention Bit 140mm 5 1/2in for Hammer RE120 | 62-120R-508HF |
| Shroud 138mm 5-7/16in for Retention Bit 140mm 5 1/2in | 40-120R-507 |
TOP SUB ASSEMBLIES

Item

Part No

Description

A

34-120-M40-54

4 inch Metzke (54 mm) assembly

1

41-D1300-0800

Circlip

2

20-120-M40-54

Adapter tube, Metzke 4 inch (54 mm)

3

33-120-M40

Top sub, Metzke 4 inch

A

34-120-M40-57

4 inch Metzke (57 mm) assembly

1

41-D1300-0800

Circlip

2

20-120-M40-57

Adapter tube, Metzke 4 inch (54 mm)

3

33-120-M40

Top sub, Metzke 4 inch

A

34-120-M45

4.5 inch Metzke (54 mm) assembly

1

41-D1300-0850

Circlip

2

20-120-M45

Adapter tube, Metzke 4.5 inch

3

33-120-M45

Top sub, Metzke 4.5 inch

Item

Part No

Description

B

34-120-R40

4 inch Remet assembly

1

41-D1300-0900

Circlip

2

20-120-R40

Adapter tube, Remet 4 inch

3

33-120-R40

Top sub, Remet 4 inch

B

34-120-R45

4.5 inch Remet assembly

1

41-D1300-0900

Circlip

2

20-120-R45

Adapter tube, Remet 4.5 inch

3

33-120-R45

Top sub, Remet 4.5 inch

Ref

Part no

Description

1

37-120-000

Sample tube

2

41-D1300-0850

Circlip

3

21-120-000

Airscreen

4

29-120-000

Distributor

5

25-120-000

Plunger

6

22-120-000

Spring

7

31-120-000

Inner cylinder

8

36-120-000

Piston

8A

36-120-HBP

Piston (High back pressure)

9

35-120-000

Piston case

10

23-120-000

Piston retaining ring

11

26-120-000

Drive sub bush

12

27-120-000

Bit retaining ring

13

16-120-000

Drive sub

**

38-120-000

Rubber parts kit
BIT/SHROUD SELECTION TABLE

Bit

Bit Ø

Shroud

Shroud Ø

62-120-500HF

127mm

40-120-415

125mm

5"

4-15/16"

62-120-502HF

130mm

40-120-501

128mm

5-1/8"

5-1/16"

62-120-504DC

133mm

40-120-503

132mm

5-1/4"

5-3/16"

62-120-504HF

133mm

40-120-503

132mm

5-1/4"

5-3/16"

62-120-506DC

137mm

40-120-505

135mm

5-3/8"

5-5/16"

62-120-506HF

137mm

40-120-505

135mm

5-3/8"

5-5/16"

62-120-508HF

140mm

40-120-507

138mm

5-1/2"

5-7/16"

62-120-708***

191mm

40-120-707

189mm

7-1/2"

7-7/16"

*** Bits used for collaring only
RETENTION BIT/SHROUD SELECTION TABLE

Bit

Bit Ø

Shroud

Shroud Ø

62-120R-500HF

127mm

40-120R-415

125mm

5"

4-15/16"

62-120R-502HF

130mm

40-120R-501

128mm

5-1/8"

4-1/16"

62-120R-504HF

133mm

40-120R-503

132mm

5-1/4"

5-3/16"

62-120R-506HF

137mm

40-120R-505

135mm

5-3/8"

5-5/16"

62-120R-508HF

140mm

40-120R-507

138mm

5-1/2"

5-7/16"