UMX Stage 3 Diamond Coring Bit BQ NQ HQ PQ NQ3 HQ3 PQ3 Ultramatrix diamond bits

UMX Stage 3 Diamond Coring Bit BQ NQ HQ PQ NQ3 HQ3 PQ3 Ultramatrix diamond bits
Basic Info.

Standard

DCDMA Wireline core drilling,

Size

BQ NQ HQ PQ NQ3 HQ3 PQ3

Matrix Height

12, 15, 16, 20, 25mm

Color

Black, any other color is availabel

Shape

Round, W Profile, double windows

Specification

DCDMA, CDDA, ISO

Trademark

ROSCHEN

HS Code

8207191000

Applications

Mineral exploration core drilling



Umx Stage 3 Diamond Coring Bit (BQ NQ HQ PQ)

Product Description
Highly versatile, capable of adjusting from one ground formation to another. They are also very durable, able to resist the wear and punishment of extreme ground conditions. They are our most productive bits ever with increased output, efficiency and performance, tested and proven at sites throughout the world.
Ultramatrix (UMX) is an innovative and versatile new line of diamond coring bits using patent-pending technology. With several technologically advanced features, the bits make diamond coring more efficient than ever before. Roschen UMX bits are engineered to drill faster, last longer, and out-perform existing bit technology in a wide range of drilling conditions and ground formations.
Extreme Performance, Maximum Versatility Core drillers understand the frustrations of having to trip rods and change bits, or burning through bits very quickly each time ground conditions change in variable rock formations. This process is highly inefficient and costly. It adds expenses to the drilling company's bottom line, and reduces a driller's pay since he is unable to meet his core sampling goal 400% increase in bit life.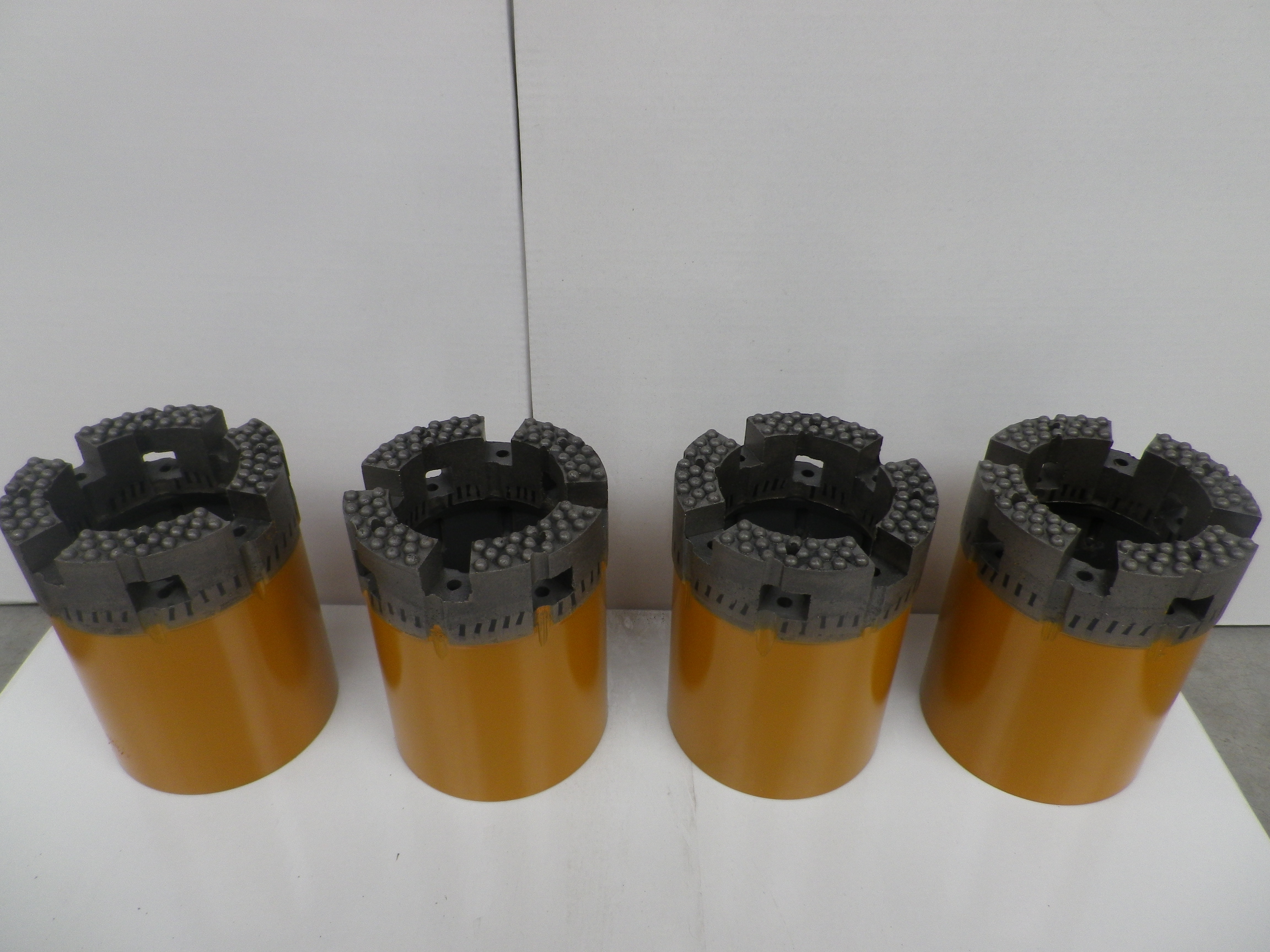 Features of UMX Diamond Bits:
1. Decreased bit inventory needs by more than 60%
2. Reduced rod tripping frequency by more than 60%
3.High performance through varied ground conditions


Specifications:

1. Highly versatile, capable of long life and extreme cutting in varied ground conditions
2. Very durable and able to resist wear within extreme conditions
3. Offer several options in crown height (up to 25mm), waterways and diameter


Product Features:
1. Increased Penetration through changing ground conditions
2. Ready to Cut Right Out of the Box
3. Stage Waterway Designs
4. Twin-Taper Window

Wireline diamond core bits, metricl diamond impregnated drill bits specifications

"Q" series:

AQ, BQ, NQ, HQ, PQ/AQTK, BQTK, BQ3, NQ2, NQ3, NQTT, HQ3, HQTT, PQ3, PQTT

A-Gauge Core Bits:

AQ, AQ-RSG, AWG(AX), AWM, AWT, LTK48

B-Gauge Core Bits:

BQ, BQ-RSG, BQ-2.400, BQ3, BWG(BX), BWM, BWT, LTK60, TBW

N-Gauge Core Bits:

NQ, NQ-RSG, NQ-3.032, NQ2, NQ2-RSG, NQ3/NQTT, NQ3-RSG, NQ3-3.032, NMLC, NWG(NX), NWM, NWT, TNW,

H-Gauge Core Bits:

HQ, HQ-RSG, HQ-3.830, HQ-3.895, HQ3/HQTT, HQ3-RSG, HQ3-3.895, HMLC, HWF-Long, HWF-Short, HWG(HX), HWT

P-Gauge Core Bits:

PQ, PQ3, PWF-Long, PWF-Short

S-Gauge Core Bits:

SWF-Long, SWF-Short

U-Gauge Core Bits:

UWF-Long, UWF-Short

Z-Gauge Core Bits:

ZWF-Long, ZWF-Short

T Series:

T36, T46, T56, T66, T76, T86, T101

TT Series:

TT46, TT56, TT66, TT76, TT86, TT101

T2 Series:

T2 46, T2 56, T2 66, T2 76, T2 86, T2 101

TB Series Metric Core Bits:

TB36, TB46, TB56, TB66, TB76, TB86, TB101

T6 Series Metric Core Bits:

T6-76, T6-86, T6-101, T6-116, T6-131, T6-146

T6S Series Metric Core Bits:

T6S-76, T6S-86, T6S-101, T6S-116, T6S-131, T6S-146

B Series(IS03552-1) Metric Core Bits:

B36, B46, B56, B66, B76, B86, B101, B116, B131, B146

All other standard:

CDDA, DCDMA, Crealius, and ISO sizes
Diamond Core Bits Specifications

A-Gauge Core Bits

Size

Outside diameter

Inside diameter

inch

mm

inch

mm

AQ

1.880/1.870

47.75/47.50

1.607/1.057

27.10/26.85

AQ-RSG

1.895/1.885

48.13/47.88

1.067/1.057

27.10/26.85

AWG,AX

1.880/1.870

47.75/47.50

1.190/1.180

30.23/29.97

AWM

1.880/1.870

47.75/47.50

1.190/1.180

30.23/29.97

AWT

1.880/1.870

47.75/47.50

1.286/1.276

32.66/32.41

LTK48

1.880/1.870

47.75/47.50

1.394/1.384

35.40/35.15

B-Gauge Core Bits

BQ

2.350/2.340

59.69/59.44

1.438/1.428

36.52/36.27

BQ-RSG

2.365/2.355

60.77/59.82

1.438/1.428

36.52/36.27

BQ-2.400

2.045/2.395

61.09/60.83

1.438/1.428

36.52/36.27

BQ3

2.350/2.340

59.69/59.44

1.325/1.315

33.65/33.40

BWG,BX

2.350/2.340

59.69/59.44

1.660/1.650

42.16/41.91

BWM

2.350/2.340

59.69/59.44

1.660/1.650

42.16/41.91

BWT

2.350/2.340

59.69/59.44

1.755/1.745

44.58/44.32

LTK60

2.350/2.340

59.69/59.44

1.742/1.732

44.25/44.00

TBW

2.350/2.340

59.69/59.44

1.785/1.775

45.34/45.09

N-Gauge Core Bits

NQ

2.970/2.960

75.44/75.19

1.880/1.870

47.75/47.50

NQ-RSG

2.985/2.975

75.82/75.57

1.880/1.870

47.75/47.50

NQ-3.032

3.037/3.027

77.14/76.89

1.880/1.870

47.75/47.50

NQ2

2.970/2.960

75.44/75.19

2.000/1.990

50.80/50.55

NQ2-RSG

2.985/2.975

75.82/75.57

2.000/1.990

50.80/50.55

NQ3,NWLTT

2.970/2.960

75.44/75.19

1.780/1.770

45.21/44.96

NQ3-RSG

2.985/2.975

75.82/75.57

1.780/1.770

45.21/44.96

NQ3-3.032

3.037/3.027

77.14/76.89

1.780/1.770

45.21/44.96

LMLC

2.970/2.960

75.44/75.19

2.052/2.042

52.12/51.87

NWG, NX

2.970/2.960

75.44/75.19

2.160/2.150

54.86/54.61

NWM

2.970/2.960

75.44/75.19

2.160/2.150

54.86/54.61

NWT

2.970/2.960

75.44/75.19

2.318/2.308

58.87/58.62

TNW

2.970/2.960

75.44/75.19

2.394/2.384

60.80/60.55

H-Gauge Core Bits

HQ

3.770/3.755

95.76/95.38

2.505/2.495

63.63/63.38

HQ-RSG

3.790/3.755

96.27/95.89

2.505/2.495

63.63/63.38

HQ-3.830

3.840/3.825

97.54/97.16

2.505/2.495

63.63/63.38

HQ-3.895

3.897/3.882

98.98/98.60

2.505/2.495

63.63/63.38

HQ3, WLHTT

3.770/3.755

95.76/95.38

2.411/2.401

61.24/60.99

HQ3-RSG

3.790/3.755

96.27/95.89

2.411/2.401

61.24/60.99

HQ3-3.830

3.840/3.825

97.54/97.16

2.411/2.401

61.24/60.99

HQ3-3.895

3.897/3.882

98.98/98.60

2.411/2.401

61.24/60.99

HMLC

3.897/3.882

98.98/98.60

2.505/2.495

63.63/63.38

HWF-Long

3.912/3.897

99.36/98.98

3.005/2.995

76.33/76.08

HWF-Short

3.897/3.882

98.98/98.60

3.005/2.995

76.33/76.08

HWG, HX

3.897/3.882

98.98/98.60

3.005/2.995

76.33/76.08

HWM

3.897/3.882

98.98/98.60

3.005/2.995

76.33/76.08

HWT

3.897/3.882

98.98/98.60

3.192/3.182

81.08/8082

P-Gauge Core Bits

PQ

4.815/4.795

122.30/121.80

3.350/3.340

85.09/84.84

PQ3

4.815/4.795

122.30/121.80

3.275/3.265

83.18/82.93

PWF-Long

4.755/4.740

120.78/120.40

3.635/3.620

92.33/91.95

PWF-Short

4.735/4.715

120.27/119.76

3.635/3.620

92.33/91.95

S-Gauge Core Bits

SWF-Long

5.755/5.740

146.18/145.80

4.447/4.432

112.95/112.57

SWF-Short

5.735/5.715

145.67/145.16

4.447/4.432

112.95/112.57

U-Gauge Core Bits

UWF-Long

6.880/6.860

174.75/174.24

5.515/5.495

140.08/139.57

UWF-Short

6.855/6.825

174.12/173.36

5.515/5.495

140.08/139.57

Z-Gauge Core Bits

ZWF-Long

7.880/7.860

200.15/199.64

6.515/6.495

165.48/164.97

ZWF-Short

7.855/7.825

199.52/198.76

6.515/6.495

165.48/164.97

T, TT, T2 & TB Series Metric Core Bits

T36

1.422/1.412

36.12/35.87

0.859/0.849

21.82/21.57

TT46

1.818/1.808

46.18/45.92

1.394/1.384

35.40/35.15

T2-46

1.818/1.808

46.18/45.92

1.253/1.243

31.82/31.57

TB56

2.22

56.3

1.64

41.7

TT56

2.210/2.200

56.13/55.88

1.788/1.778

45.41/45.16

T2-56

2.210/2.200

56.13/55.88

1.647/1.637

41.83/41.58

T2-66

2.603/2.593

66.12/65.87

2.040/2.030

51.81/51.56

T2-76

2.997/2.987

76.12/75.87

2.434/2.424

61.82/61.57

T2-76 Coreline

2.997/2.987

76.12/75.87

2.288/2.278

58.12/57.87

T2-86

3.391/3.381

86.13/85.88

2.828/2.818

71.83/71.58

T2-86 Coreline

3.391/3.381

86.13/85.88

2.682/2.672

68.13/67.88

T2-101

3.981/3.971

101.12/100.87

3.300/3.290

83.82/83.57

T2-101 Coreline

3.971/3.971

101.12/100.87

3.155/3.145

80.13/79.88

T6 Series Metric Core Bits

T6-76

2.997/2.987

76.12/75.87

2.249/2.239

57.12/56.87

T6-86

3.391/3.381

86.13/85.88

2.643/2.633

67.13/66.88

T6-101

3.981/3.971

101.12/100.87

3.115/3.105

79.12/78.87

T6-116

4.575/4.560

116.20/115.82

3.667/3.657

93.14/92.89

T6-131

5.165/5.150

131.19/130.81

4.257/4.247

108.13/107.88

T6-146

5.755/5.740

146.18/145.8

4.847/4.837

123.11/122.86

T6S Series Metric Core Bits

T6S-76

3.009/2.999

76.43/76.18

1.883/1.873

47.83/47.58

T6S-86

3.403/3.393

86.43/86.18

2.277/2.267

57.83/57.58

T6S-101

3.993/3.983

101.43/101.18

2.828/2.818

71.83/71.58

T6S-116

4.586/4.571

116.48/116.10

3.379/3.369

85.83/85.58

T6S-131

5.177/5.162

131.48/131.10

3.970/3.960

100.83/100.58

T6S-146

5.767/5.752

146.48/146.10

4.560/4.550

115.83/115.58

B Series (ISO3552-1) Metric Core Bits

B36

1.422/1.412

36.12/35.87

0.859/0.849

21.82/21.57

B46

1.818/1.808

46.18/45.92

1.253/1.243

31.82/31.57

B56

2.210/2.200

56.13/55.88

1.647/1.637

41.83/41.58

B66

2.603/2.593

66.12/65.87

2.040/2.030

51.81/51.56

B76

2.997/2.987

76.12/75.87

2.434/2.424

61.82/61.57

B86

3.391/3.381

86.13/85.88

2.828/2.818

71.83/71.58

B101

3.981/3.971

101.12/100.87

3.418/3.408

86.82/86.57

B116

4.575/4.560

116.20/115.82

4.009/3.999

101.83/101.58

B131

5.165/5.150

131.19/130.81

4.599/4.589

116.82/116.57

B146

5.755/5.740

146.18/145.80

5.190/5.180

131.82/131.57