Remet, Metzke, Faber thread reverse circulation drill pipe for sandvik RC hammer drilling
Remet, Metzke, Faber thread reverse circulation drill pipe for sandvik RC hammer drilling
Double Wall Drill Pipes Reverse Circulation Drill Pipe for Re542 Re543 Re545 Re547 RC Reverse Circulation DTH Hammer
Reverse Circulation RC Drilling Rods is also called Double wall drill pipe, double drill pipe or Dual Wall drill pipe. It consists of two layers of inner and outer drill pipes (called inner pipe and outer pipe). The inner and outer pipes constitute an annular gap, which is a channel for pumping the flushing medium to the bottom of the hole when hydraulic rock drilling and center sampling drilling. The central hole of the inner tube is fixed as a whole by discharging the flushing medium, and each double-walled drill pipe is connected with the screw of the outer tube to ensure transmission of torque and pressure. The inner tube is usually connected by a plug-in method, which generally only serves as a flushing medium. Therefore, a sealing device is required at the plug-in place.
Double Wall Drill Pipes are used in drilling of wells with diameter 84 and 93 mm and depth up to 300 m in soils of II-V drill ability classes with seams of soils up to VII drill ability class in the fulfilment of all necessary prospecting and geochemical operations, in geological mapping and exploration of deposits of solid minerals.
The reverse circulation drill rod has four threads which adds to machine operating time. The purpose of the two extra threads is to allow the inner tube to be replaced in the field. It also allows the driller to replace the box tool joint with a new tool joint, without welding and can be done at the site. - We use heat threaded 4130 alloy tool joints; this alloy allows driller to employ a hard facing program without fear of embitterment. We use a micro-alloy midsection (mid-body), ST52V, 90KS1 MIL VLD possessing a superior abrasion resistance. Our inner tube midsection (mid-body) is a heavy-wall mechanical tube, not a pipe. The inner tube is fixed and won't vibrate under most conditions. The inner tube ends are made from a heat treated alloy and the male end is machine finished after welding for perfect alignment. The o-ring retainers absorb the percussion forces to eliminate problems arising from the transfer of vibration and torque loads to the outer pipe.
Competitive Advantage
High strength chromium-molybdenum steel with high fatigue strength and excellent wear resistance
Roschen RC Drill Rods Specifications

RC Rod size

Outer Tube OD

Inner Tube OD

Sealing System

Effective Length

mm

inch

mm

inch

O Ring, V Ring

1.5m, 2m, 3m, 4.5m, 6m, 9m or 5', 6', 8',10', 20', 25', 30'

89-38

89

3 1/2

38

1 1/2

120-51

102

4

51

2

114-64

114

4 1/2

64

2 1/2

114-70

114

4 1/2

70

2 3/4

127-76

127

5

76

3

127-66

127

5

66

2 5/8

Note:

Any tool joint thread is available by request.

Any special specifications is available by request.
How to order of RC Drill Rods ?
Effective Length + Out Tube O.D. + Inner Tube O.D. + Too Joints Connection Thread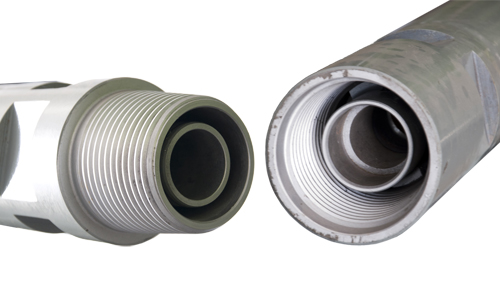 For more information, pls contact us: