Drag Bits Tungsten Carbide
Drag Bits Tungsten Carbide
Tungsten Carbide Tipped Drag Bits Stepped
Tungsten Carbide Tipped Drag Bits Chevron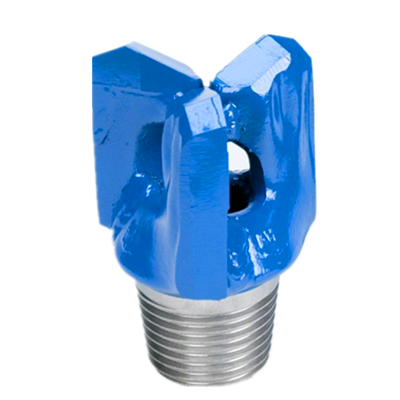 Roschen group Ltd design and manufacture a wide range of Rotary type Drag Bits of which are used in the same manor and purpose as the Milled Tooth Rock Bits, except that they are limited to softer formations generally. They are in most cases cheaper than a Milled Tooth Rock Bit. The cutting profile maybe Flat, Chevron or Stepped according the application. They may also be used with Water, Mud or Air Flush.
Important:
When ordering Tungsten Carbide Tipped Drag Bits please ensure that the following information is clearly given:-
. Formation to be drilled ( Soft or Medium )
. Flushing medium ( Water, Mud or Air Flush )
. Profile of bit ( Flat, Chevron or Stepped )
Please contact our Technical Sales Department who will advise the formation to be drilled, Flushing medium or Whether Jet Nozzle type required. All our Tungsten Carbide Tipped Drag Bits are designed and manufactured in house by our fully qualified engineers allowing us to provide a custom service and a fast turn around.
They are designed to drill in soft to medium formations and the most common areas of use are sand, clay and some soft rock. Step drag bits can be used for drilling water wells, mining, geothermal, environmental & exploration drilling. Chevron drag bits are mostly used for in a lot of rock or tougher gravel & shale drilling.
Tungsten Carbide Tipped Drag Bits – Size
Bit Size

Thread

Aprx. Weight

In

mm

Ib.

kg.

1 7/8

35

E Rod

2.2

1.0

2

48

E Rod

2.2

1.0

2 1/4

57

A Rod

2.2

1.0

2 1/2

63

A Rod

2.4

1.1

2 3/4

70

A Rod

2.4

1.1

3

76

N Rod

2.6

1.2

3 1/4

83

N Rod

2.9

1.3

3 1/2

89

N Rod

3.0

1.4

3 3/4

95

N Rod

3.3

1.5

3 7/8

98

2 3/8 API.

3.9

1.8

4

102

2 3/8 API.

5.3

2.4

4 1/4

108

2 3/8 API.

5.3

2.4

4 1/2

114

2 3/8 API.

5.5

2.5

4 3/4

121

2 3/8 API.

6.0

2.8

4 7/8

124

2 3/8 API.

6.6

3.0

5

127

2 3/8 API.

7.9

3.6

5 1/8

130

2 3/8 API.

9.7

4.4

5 1/4

133

2 3/8 API.

10.0

4.5

5 1/2

140

2 3/8 API.

11.0

5.0

5 5/8

143

2 3/8 API.

12.0

5.5

5 3/4

146

2 7/8 API.

15.0

6.8

5 7/8

148

2 7/8 API.

16.2

7.4

6

152

3 1/2 API.

18.0

8.2

6 1/4

159

3 1/2 API.

22.0

10.0

6 1/2

165

3 1/2 API.

27.0

12.3

6 3/4

172

3 1/2 API.

29.0

13.2

7

179

3 1/2 API.

32.0

14.4

7 1/4

184

3 1/2 API.

36.0

16.4

8

203

3 1/2 API.

43.0

19.5

8 1/2

215

4 1/2 API.

48.0

21.8

8 3/4

222

4 1/2 API.

52.0

23.6

9

229

4 1/2 API.

55.0

25.0

9 5/8

244

4 1/2 API.

58.3

26.5

9 7/8

251

4 1/2 API.

61.0

27.8

10 5/8

270

6 5/8 API.

86.0

39.0

12 1/4

311

6 5/8 API.

90.0

41.0

14 3/4

375

6 5/8 API.

113.0

51.4

15

381

6 5/8 API.

123.46

56.0

16

406.4

6 5/8 API.

132.3

60.0

17

431.8

6 5/8 API.

143.3

65.0

17 1/2

444.5

6 5/8 API.

158.7

72.0

18

457.2

6 5/8 API.

176.4

80.0

19

482.6

6 5/8 API.

198.4

90

20

508

7 5/8 API.

225

102.0

22

558.8

7 5/8 API.

254.0

115

24

609.6

7 5/8 API.

276

125.0