Roschen Releasing Spear provide a positive means to engage and retrieve an internal fish from the well. It is ruggedly built to withstand severe jarring and pulling strains. It engages the fish over a large area without damage of the fish. The simple design avoids the problem of small parts lost or damaged in the hole when operation. It may be used with other equipment such as pack-off assemblies and internal cutters. If the fish cannot be pulled, the spear may easily be released and disengaged.
Construction
The Releasing Spear consists of a mandrel, grapple, releasing ring, and a bull nose nut.The mandrel is made of specially heat treated high strength alloy steel; and may be ordered either as a flush type to enter completely into a fish or as a shoulder type to provide a positive landing position on top of the fish. Size and type of the upper box connection is provide according to customer's exact specification.
When order please specify:
1. The model of the releasing spear.
2. Top connection
3. The exact size and weight of the fish
4. Flush or shoulder type mandrel


Specifications - Releasing Spear

Model

Mandrel O.D (mm)

Catch size (mm)

ThreadConn.

Allowed Load (KN)

LM-T60

89

47.4-51.8

NC26

270

LM-T73

105

57.4-62

NC31

380

LM-T89

121

70-77.8

NC38

650

LM-T102

121

82-90.1

NC38

800

LM-T114

121

92.4-103.9

NC38

1000

LM-T127

162

102-115.8

NC50

1300

LM-T140

162

118.6-127.3

NC50

1500

LM-T168

162

140-153.7

NC50

2200

LM-T178

162

150.4-166.1

NC50

2200

LM-T194

165

168.3-178.5

NC50

2300

LM-T219

203

190.8-205.7

6 5/8 REG

2300

LM-T245

203

216.8-228.7

6 5/8 REG

2500

LM-T273

203

240-258.9

6 5/8 REG

2500

LM-T340

203

313.6-323

6 5/8 REG

2500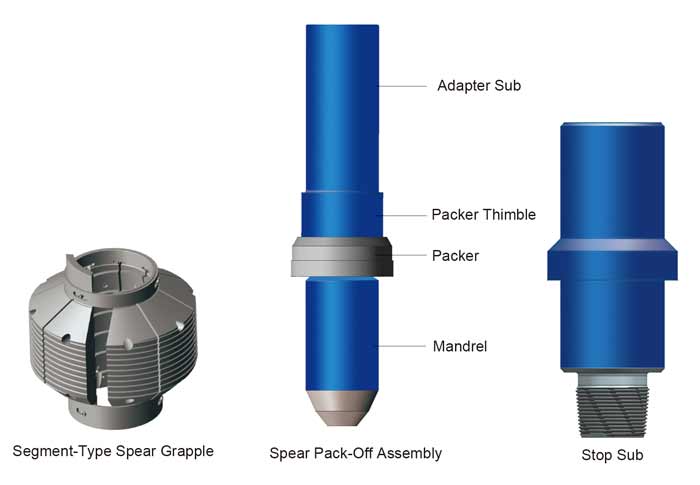 Segment-Type Spear Grapple
The Segment-Type Spear Grapple enhances the spear's usefulness by providing an extended catching range beyond the maximum range of the standard one-piece grapple. Roschen Segment-Type Spear Grapple is used in place of the standard one-piece Grapple on the 9 5/8" Spears to convert them to spears capable of engaging up to 20" Casing
Segment-Type Spear Grapple consists of a grapple body, eight grapple segments, two retainer rings, six retainer ring screws, six retainer ring spacers, and sixteen grapple segment screws.
Pack-off Assembly
Pack-off Assembly is available for all Roschen Spear Assemblies and is designed to efficiently pack-off all sizes of tubing and casing. Circulation through the fish is enabled by attaching the Spear Pack-off Assembly to the bottom of the spear with a sub type nut.
Spear Stop Sub
The Roschen Releasing Spear Stop Sub Assembly is an accessory designed to convert a releasing spear with a flush-type mandrel into a shouldered type spear. It is installed in the box connection at the top of the mandrel when the use of a positive stop is desired or required. A stop ring can be added to increase shoulder diameter. All stop rings are furnished with left-hand threads.
Optional Nuts
Mill Type to mill away burrs, Sub Type to connect and run other tools below the Spear, and Side hill Type to center the spear in greatly oversize holes to assure entry of the Spear into the fish.